---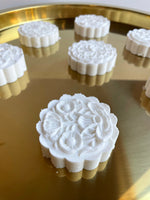 These are more than just a fun design, they are an amazing shower experience!!  They have Menthol, Eucalyptus Essential Oil and Peppermint Essential Oils to help relieve your sinuses and nasal passages.  


Simply drop on in the corner of your shower away from the direct stream and breath deep and enjoy your spa shower! 
NO ARTIFICIAL COLOR
NO ARTIFICIAL FRAGRANCE
ALL NATURAL
Ingredients:  Sodium Bicarbonate (baking soda), Citric Acid, Kaolin Clay, Menthol, Eucalyptus Essential Oil, Peppermint Essential Oil

 
If irritation occurs, discontinue use.  Designs will vary, size will remain the same. 
WARNING: This product is intended for adult use only.  Only for use in Showers and NOT intended for use as a bath bomb.  Use caution when using as the small amount of essential oils in may make shower slippery.