---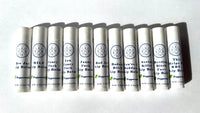 ALL NATURAL   ●   PARABEN FREE   ●   CHEMICAL FREE   ●   PRESERVATIVE FREE
This is the OG of lip balms, literally feels like creamy cashmere on your lips with the cooling peppermint oil sensation, it is heavenly.
Ingredients:  Organic Coconut oil, Organic Beeswax, Organic Sunflower Seed Oil, Organic Cocoa Butter, Organic Unrefined Shea Butter, Organic Peppermint Oil, Sweet Almond Oil, Vitamin E
Net Wt – 0.15oz/4.25g ~ Price is listed for 1 Lip Balm. 
Plastic Tubes are made from BPA Free Plastic and are the normal turn-style type chapstick tubes.
**Do not leave these in the sun or in hot places, they have a low melting temperature due to the all natural oils used.  These are preservative free, use within 12 months.