---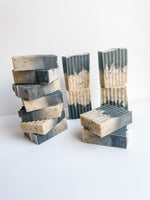 This bar gently exfoliates while moisturizing with a generous serving of mango and shea butter to provide additional skin conditioning! Addition of Activated Charcoal helps draw impurities from the skin whilst coconut milk, mango and Shea butter moisturize and condition skin.  This Fragrance Oil Scented All Natural Soap Bar has notes of bergamot, lime, earl grey tea leaves, cucumber, amber, and musk. This scent is perfect for the non-floral, non-fruity person!!  

What makes this soap different? What is an all natural soap bar?
Most of today's soaps have harsh detergents added and natural glycerin removed, only to be placed in lotions and marketed for people as a necessity after skin is stripped of its natural oils. Cold processed soaps are all glycerin soaps (the saponification process produces glycerin), and provide other natural oils for your skin. You cleanse, while nurturing.
HOW IT'S MADE: Cold Process soaps are made in the traditional method our ancestors used and produces a natural and gentle soap. Oils are combined with a lye water (or milk) mixture so that the oil and lye molecules can combine to make something new: soap! I make all of my soaps with at least a 5-15% superfat content. This means that 5-15% or more of the luxurious oils and butters that I use are left in the soap to nourish your skin and 0% of lye and water are left. The end result is a creamy lather, beautiful bubbles, and a pure soap that will nourish your skin. Weather you have oily skin, dry, skin, or suffer from acne or eczema each bar I make is specially formulated for a specific purpose. Each bar is dry-aged for a minimum of 4-6 weeks to cure and harden while the saponification process turns the oils into soap while removing all water and lye in the aging and drying process. It is normal for there to be some color variation from bar to bar since each bar is handcrafted using natural oils.
HOW TO USE AN ALL NATURAL SOAP BAR
Simply wet the bar and lather in your hands and rub in areas you wish to wash from head to toe. It is very important to allow this bar to dry between uses. Do not store in the built-in soap dish on the side of the tub if this area comes into contact with water during shower/bath. Keeping your bar dry between uses helps it last longer.
All soaps are hand-cut and mare with coconut, olive oils, and other natural and skin nourishing oils and butters for your entire family.
No detergents, dyes or preservatives
Our Fragrance oils are Phthalate free, formaldehyde free and paraben free
Handmade in by ME in Las Vegas

Cold Processed
Luxurious
Ingredients: Organic Coconut Milk, Coconut Oil, Certified Sustainable Palm Oil, Sunflower Oil, Apricot Kernel Oil, Mango Butter, Shea Butter, Castor Oil, Lye,  Fragrance Oil, Sodium Lactate, Activated Charcoal, Poppy Seeds
This product is VEGAN, cruelty free and never tested on animals.