---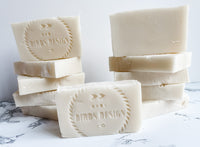 This creamy and luxurious bar is the perfect balance of delicate mixed with generous cleansing power.  Castor oil is a moisturizing humectant and attracts moisture to your skin.  Jojoba oil adds additional moisturizing and conditioning to the bar.  Shea Butter has a high concentration of Vitamin E and will help soften skin instead of stripping away your natural skin oils while cleansing.  Cocoa Butter is a lovely addition for those with problematic or sensitive skin and helps promote your skins natural barrier.
What makes this soap different? What is an all natural soap bar?
Most of today's soaps have harsh detergents added and natural glycerin removed, only to be placed in lotions and marketed for people as a necessity after skin is stripped of its natural oils. Cold processed soaps are all glycerin soaps (the saponification process produces glycerin), and provide other natural oils for your skin. You cleanse, while nurturing.
HOW TO USE AN ALL NATURAL SOAP BAR
Simply wet the bar and lather in your hands and rub in areas you wish to wash from head to toe. It is very important to allow this bar to dry between uses. Do not store in the built-in soap dish on the side of the tub if this area comes into contact with water during shower/bath. Keeping your bar dry between uses helps it last longer.
All soaps are handmade with carefully selected and curated skin nourishing oils and butters for your entire family.

No detergents or artificial dyes
Handmade in by ME in Las Vegas
All Natural ingredients
Cold Processed
Luxurious
Ingredients:  Distilled Water, Olive OIl, Coconut Oil, Castor Oil, Lye, Jojoba Oil, Shea Butter, Cocoa Butter, Lavender Essential Oil, Sodium Lactate

This product is VEGAN, cruelty free and never tested on animals.

For external use only. Avoid contact with eyes.  If irritation, redness, or discomfort occurs, discontinue use and consult a licensed healthcare practitioner.